Mobile Pet Spa Boca Raton
The well-known and busy city of Boca Raton, Florida is located in South Florida and it's home to thousands of people and pets. This fantastic city is now home to over 95,000 people and there are plenty of reasons why people have decided to call this area home. This city is best known in Palm Beach County for its large golf courses, parks, restaurants, and most importantly, dog-friendly beaches and parks. A population as active and healthy as the one found here means there are going to be plenty of different furry friends walking around. Living in Boca Raton, Florida also gives you access to the best mobile pet spa in all of South Florida. We've proudly been serving cities in and around Palm Beach and Broward County for years. 
Pawmper Fluffy wants to show you why we are the go-to mobile pet spa in Boca Raton when your pet needs some true grooming attention. If you've never tried mobile pet spa services before, you're going to love the level of convenience this service provides for you and your pets. You'll never want to go back to the pet salon ever again. Our services can be easily booked and we can even do same-day appointments (if timing permits.)
Boca Raton Mobile Pet Spa Services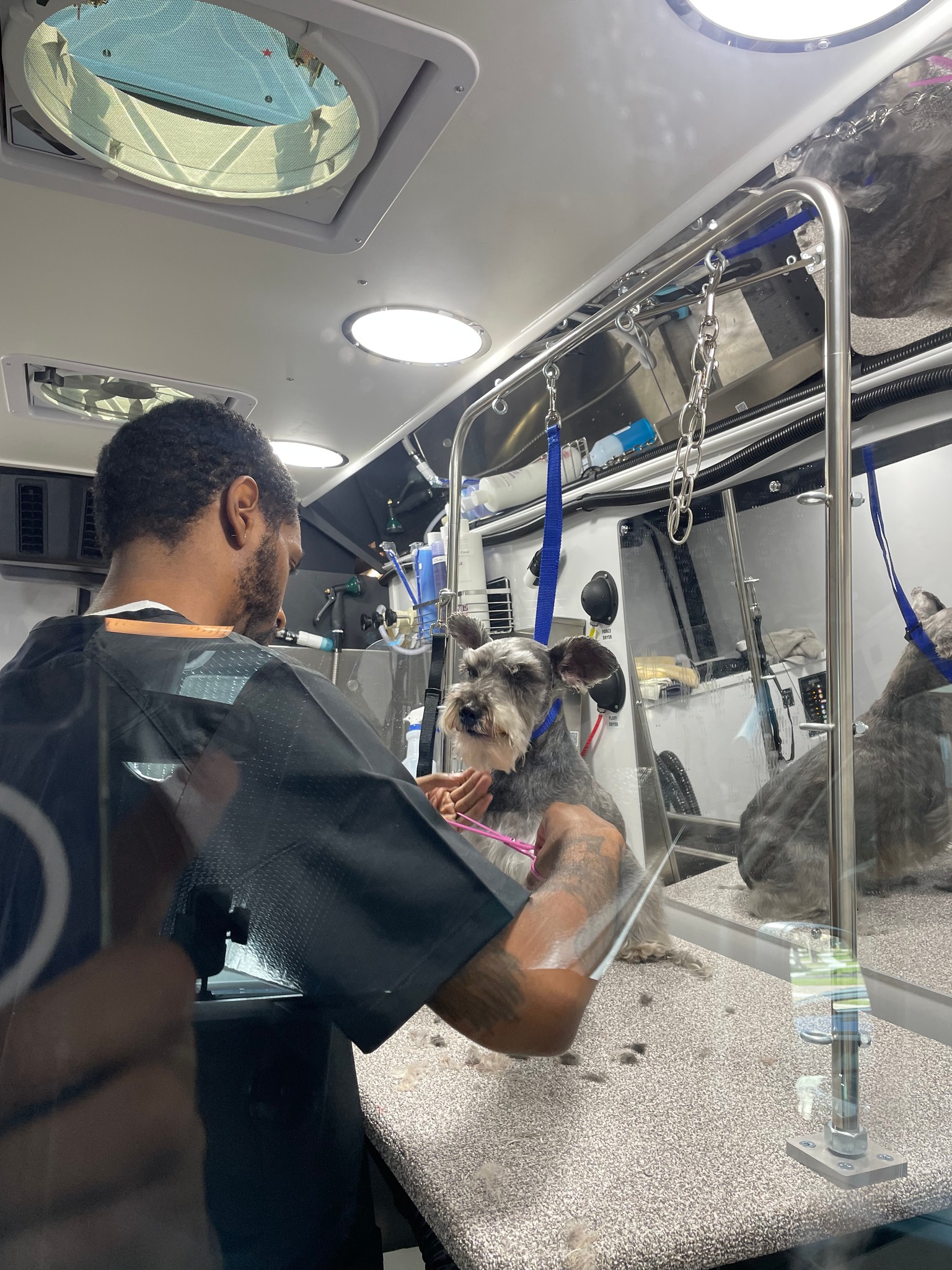 There are a number of different challenges we face in today's world. Just leaving your home can put you and your pet in danger of contracting an illness or disease. Having the groomer come right to your doorstep will keep you and your pet safe from any sort of harm. When you choose Pawmper Fluffy, your pet is put into the spotlight of their own personal grooming show. We only groom one pet at a time to ensure your pet gets the attention they deserve. This also helps reduce the spread of different pet-based infections and reduces the amount of stress your pet feels while being groomed. This also gives out groomers plenty of time to fully clean and disinfect everything before the next appointment. Our pet grooming services are available in other Palm Beach and Broward County cities such as Boynton Beach,  Parkland, Miramar, Fort Lauderdale, and more! Contact us today to see if we provide our grooming services in your area.
Your Trusted Boca Raton Mobile Pet Groomers
Pawmper Fluffy started providing mobile pet spa services with the goal of providing a full pet grooming session only steps outside of your home. We never want your pet to feel anxious or on edge while they are being pampered in our mobile spa. We make of this by only hiring groomers who have plenty of prior experience and want to work with animals each and every day. You can always count on us to keep your pets safe, calm, and comfortable while they get the best grooming experience in town. Mobile pet services are much easier on your pets as they feel much less stressed compared to an in-person pet salon or spa. We want your pet to feel "as home" as they possibly can. Once your time has been scheduled, your pet will be the only one present in the van (besides the groomer of course). 
Benefits of a Mobile Pet Spa in Boca Raton
There are a considerable number of benefits that come with having your pet groomed right outside of Boca Raton home. The most obvious and noticeable benefit is the level of convenience and comfort that it provides you and your pet. When the spa is mobile and comes to you, you no longer have to worry about gathering your pets, bringing them to the spa, and picking them up again once their grooming is done. Mobile pet spas give you the chance to sit back and relax in the comfort of your home while your pet receives amazing grooming services just steps away from your home. 
The next great advantage of the cat or dog that is being groomed. You may notice that your pet doesn't act like themselves whenever they go to an in-person pet spa. This is due to the fact that pet spas have a number of different sounds, smells, and sights that your dog or cat is unfamiliar with. Mobile pet spas don't have nearly the same amount of noise and distractions as in-person pet salons have. They'll feel much more comfortable in this environment and won't be near as discomfort. 
Schedule Your Mobile Pet Spa Visit Today!
Pawmper Fluffy uses high-quality products and spends exactly the time needed with each pet to ensure they come out looking happier and healthier than ever. We love each and every pet that enters our mobile pet spa which is why our groomers are all compassionate and fully trained. We want to become a part of your pet's family by taking amazing care of them. If you're in Boca Raton or the Palm Beach County area and need a mobile pet spa, visit our contact page or booking page to get started!